Fuel Economy Log
This page contains an almost complete history of my car's fuel economy. Data from October 2005 to February 2008 was lost a number of years ago, and the information from that period has been extrapolated as one large entry from all of the data gathered after that period. You may also notice that my 318iS' fuel economy shows an overall decrease after late 2008. At that time I moved to a different location, closer to my office. That enabled me to ride my bike to work almost every day. Because of this, the times that I drove the car were usually for very short distances and errands, so fuel economy suffered overall. Prior to my move, I would drive ~45 miles on the highway daily. Another factor in my decreased mileage was a wiring "oops" when I first bought the car, and the wide-band O2 sensor system I had installed. In short, the fuel injection electronics were only getting about 7V instead ov 12V thanks to a sloppy wiring repair. The wide-band O2 sensor system was also improperly grounded, which caused the ECU to run things pretty rich. Thankfully, all of that was sorted out around May of 2011.
The original engine died at around 220,000 miles from a broken timing case. It was replaced with a 2.1L, professionally built M42 from Metric Mechanic. It is still too early to really say what the impact on mileage will be, but so far it looks a little lower. This is probably largely due to me driving the car a bit harder than I used to since the extra 70BHP is a lot of fun! The increased displacement probably also causes a hit to the mileage.
The car used to attain 30-32 MPG when the original engine had under 200,000 miles on it (closer to 27MPG now with my new, larger displacement engine) on long highway drives if I kept the speed under 75mph, but road trips are typically done in my fiancee's Honda Civic since it can easily get 38-44 MPG on the highway. If I drive tamely around town running errands and such, the car usually gets 25-27 MPG. The two plots below give a graphical depiction of the car's fuel economy over the years, and the price of gasoline in the San Francisco Bay area of California.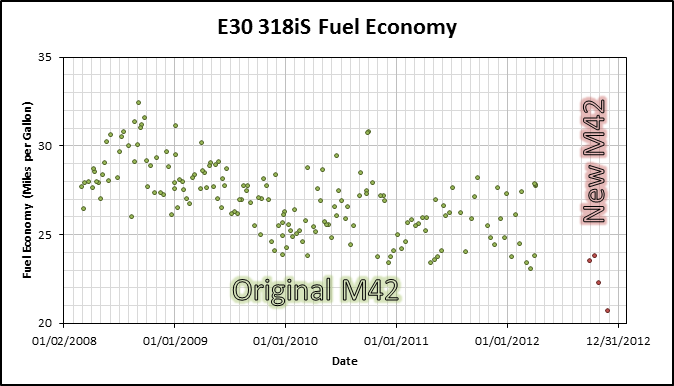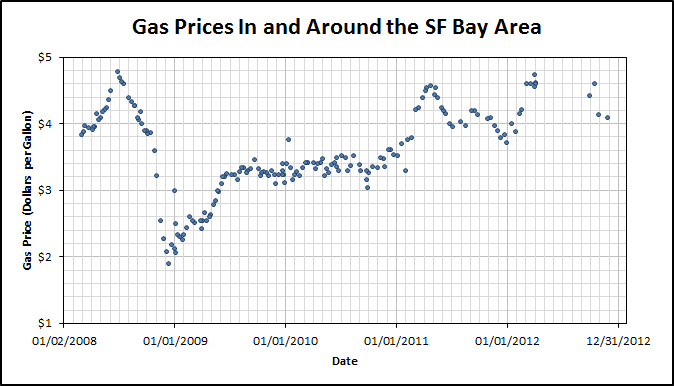 All fill-ups used 91 octane "premium" gasoline.
2012
Date

Trip Miles

Gallons Purchased

Fuel Economy

Fuel Cost

Fill-Up Cost

Brand

Odometer
11/24/2012
202
9.737
20.7
$4.099
$39.91
Chevron
221007
10/28/2012
249
11.177
22.3
$4.139
$46.26
Chevron
220805
10/13/2012
250
10.500
23.8
$4.599
$48.29
Chevron
220556
09/29/2012
244
10.357
23.6
$4.419
$45.77
Union 76
220306
04/03/2012
282
10.148
27.8
$4.619
$46.87
Shell
220062
04/03/2012
381
13.707
27.8
$4.599
$63.04
Valero
219780
03/30/2012
270
9.698
27.9
$4.739
$45.96
Chevron
219399
03/30/2012
260
10.901
23.8
$4.559
$49.70
Chevron
219129
03/17/2012
242
10.465
23.1
$4.599
$48.13
Chevron
218870
03/03/2012
379
16.150
23.5
$4.609
$74.44
Shell
218628
02/17/2012
285
10.385
27.4
$4.219
$43.81
Chevron
218249
02/11/2012
290
11.828
24.5
$4.159
$49.19
Chevron
217964
01/28/2012
335
12.827
26.1
$3.879
$49.76
Union 76
217675
01/15/2012
276
11.617
23.7
$3.999
$46.46
Chevron
217340
2011
Date

Trip Miles

Gallons Purchased

Fuel Economy

Fuel Cost

Fill-Up Cost

Brand

Odometer
12/29/2011
314
11.494
27.3
$3.719
$42.75
Union 76
217064
12/23/2011
306
12.333
24.8
$3.839
$47.35
Chevron
216750
12/09/2011
322
12.414
25.9
$3.799
$47.16
Chevron
216444
12/01/2011
333
12.029
27.6
$3.899
$46.90
Chevron
216122
11/19/2011
293
11.991
24.4
$3.979
$47.71
Chevron
215790
11/06/2011
297
11.962
24.8
$4.099
$49.03
Chevron
215497
10/26/2011
309
12.104
25.5
$4.079
$49.37
Chevron
215200
09/24/2011
344
12.202
28.2
$4.139
$50.50
Chevron
214891
09/14/2011
336
12.376
27.1
$4.199
$51.97
Chevron
214547
09/04/2011
320
12.373
25.9
$4.199
$51.95
Union 76
214211
08/16/2011
293
12.199
24.1
$3.969
$48.42
Chevron
213891
07/30/2011
307
11.693
26.2
$4.039
$47.23
Union 76
213598
07/04/2011
333
12.020
27.7
$3.959
$47.59
Union 76
213291
06/25/2011
290
11.051
26.2
$3.999
$44.19
Union 76
212958
06/12/2011
314
12.053
26.1
$4.159
$50.13
Chevron
212668
06/05/2011
331
12.413
26.7
$4.199
$52.12
Union 76
212354
05/29/2011
295
12.253
24.1
$4.239
$51.94
Union 76
212023
05/15/2011
282
11.866
23.8
$4.399
$52.20
Union 76
211728
05/08/2011
317
11.744
27.0
$4.539
$53.31
Chevron
211446
05/05/2011
293
12.431
23.6
$4.439
$55.18
Chevron
211129
04/23/2011
294
12.539
23.4
$4.579
$57.42
Chevron
210836
04/11/2011
324
12.490
25.9
$4.539
$56.69
Chevron
210542
04/07/2011
308
12.201
25.2
$4.499
$54.89
Chevron
210218
03/27/2011
251
9.670
26.0
$4.399
$42.54
Chevron
209910
03/14/2011
318
12.400
25.6
$4.239
$52.56
Chevron
209659
03/06/2011
314
12.320
25.5
$4.219
$51.98
Chevron
209341
02/19/2011
319
12.343
25.8
$3.799
$46.89
Chevron
209027
02/06/2011
305
11.864
25.7
$3.759
$44.60
Chevron
208708
01/30/2011
307
12.468
24.6
$3.299
$41.13
Union 76
208403
01/17/2011
300
12.390
24.2
$3.699
$45.83
Chevron
208096
01/03/2011
303
12.105
25.0
$3.519
$42.60
Union 76
207796
2010
Date

Trip Miles

Gallons Purchased

Fuel Economy

Fuel Cost

Fill-Up Cost

Brand

Odometer
12/23/2010
287
11.898
24.1
$3.539
$42.11
Chevron
207493
12/13/2010
305
12.849
23.7
$3.619
$46.50
Chevron
207206
12/05/2010
275
11.726
23.5
$3.619
$42.44
Chevron
206901
11/24/2010
317
11.768
26.9
$3.359
$39.53
Union 76
206626
11/19/2010
323
11.870
27.2
$3.479
$41.30
Valero
206309
11/10/2010
341
12.535
27.2
$3.499
$43.86
Chevron
205986
10/30/2010
272
11.457
23.7
$3.339
$38.25
Shell
205645
10/14/2010
327
11.699
28.0
$3.359
$39.30
Union 76
205373
10/02/2010
350
11.358
30.8
$3.259
$37.02
Shell
205046
09/26/2010
407
13.237
30.7
$3.039
$40.23
T.A.
204696
09/24/2010
300
10.926
27.5
$3.299
$36.04
Chevron
204289
09/23/2010
349
12.785
27.3
$3.159
$40.39
Chevron
203989
09/05/2010
350
12.271
28.5
$3.299
$40.48
Union 76
203640
08/31/2010
338
12.429
27.2
$3.379
$42.00
Chevron
203290
08/14/2010
292
11.453
25.5
$3.519
$40.30
Chevron
202952
08/04/2010
309
12.654
24.4
$3.369
$42.63
Union 76
202660
07/24/2010
322
12.121
26.6
$3.299
$39.99
Union 76
202351
07/16/2010
457
17.632
25.9
$3.499
$61.69
Chevron
202029
07/03/2010
428
15.898
26.9
$3.519
$55.95
Chevron
201572
06/25/2010
242
8.805
27.5
$3.299
$29.05
Chevron
201144
06/19/2010
329
11.172
29.4
$3.359
$37.53
Chevron
200902
06/18/2010
223
8.553
26.1
$3.499
$29.93
Chevron
200573
06/11/2010
307
11.539
26.6
$3.419
$39.45
Chevron
200350
06/02/2010
306
12.321
24.8
$3.379
$41.63
Chevron
200043
05/21/2010
287
11.225
25.6
$3.259
$36.58
Chevron
199737
05/16/2010
296
11.580
25.6
$3.319
$38.43
Union 76
199450
05/08/2010
303
11.778
25.7
$3.219
$37.91
Arco
199154
05/01/2010
348
12.131
28.7
$3.479
$42.20
Chevron
198851
04/25/2010
250
9.283
26.9
$3.419
$31.74
Chevron
198503
04/17/2010
336
12.176
27.6
$3.399
$41.39
Shell
198253
04/11/2010
284
11.293
25.1
$3.319
$37.48
Chevron
197917
04/03/2010
313
12.286
25.5
$3.419
$42.01
Chevron
197633
03/15/2010
344
11.947
28.8
$3.419
$40.85
Chevron
197321
03/13/2010
212
8.905
23.8
$3.419
$30.45
Chevron
196977
03/06/2010
313
12.144
25.8
$3.419
$41.52
Chevron
196765
02/27/2010
295
11.980
24.6
$3.339
$40.00
Chevron
196451
02/16/2010
309
12.240
25.2
$3.219
$39.40
Chevron
196156
02/07/2010
291
11.599
25.1
$3.279
$38.03
Chevron
195847
01/31/2010
309
11.703
26.4
$3.239
$37.91
Union 76
195555
01/24/2010
314
12.609
24.9
$3.159
$39.83
Chevron
195246
01/17/2010
304
12.045
25.2
$3.339
$40.22
Chevron
194932
01/10/2010
291
11.375
25.6
$3.759
$42.76
Valero
194628
01/05/2010
287
11.820
24.3
$3.399
$40.18
Chevron
194337
2009
Date

Trip Miles

Gallons Purchased

Fuel Economy

Fuel Cost

Fill-Up Cost

Brand

Odometer
12/27/2009
317
12.043
26.3
$3.119
$37.56
Union 76
194050
12/24/2009
303
11.607
26.1
$3.239
$37.60
Chevron
193733
12/23/2009
99
3.856
25.7
$3.399
$13.11
Chevron
193430
12/23/2009
298
11.957
24.9
$3.299
$39.45
Chevron
193331
12/21/2009
300
12.556
23.9
$3.239
$40.67
Chevron
193034
12/09/2009
326
12.772
25.5
$3.239
$41.37
Chevron
192734
11/28/2009
308
10.859
28.4
$3.099
$33.65
Union 76
192408
11/26/2009
385
15.979
24.1
$3.239
$51.76
Chevron
192100
11/16/2009
301
12.217
24.6
$3.299
$40.30
Chevron
191715
11/07/2009
329
12.191
27.0
$3.219
$39.24
Union 76
191414
10/30/2009
334
12.041
27.7
$3.259
$39.24
Union 76
191085
10/19/2009
342
12.155
28.1
$3.279
$39.86
Union 76
190751
10/13/2009
314
11.608
27.1
$3.259
$37.83
Union 76
190410
10/10/2009
289
11.558
25.0
$3.219
$37.21
Chevron
190095
10/04/2009
325
12.003
27.1
$3.319
$39.84
Union 76
189806
09/21/2009
309
12.115
25.5
$3.459
$41.91
Chevron
189481
09/07/2009
342
12.767
26.8
$3.329
$42.50
Union 76
189172
08/30/2009
338
12.176
27.8
$3.299
$40.17
Valero
188830
08/24/2009
330
12.017
27.5
$3.259
$39.16
Union 76
188495
08/16/2009
346
12.455
27.8
$3.339
$41.59
Union 76
188163
08/08/2009
319
11.823
27.0
$3.339
$39.48
Chevron
187816
08/03/2009
316
11.724
27.0
$3.279
$38.44
Chevron
187497
07/26/2009
316
12.075
26.2
$3.159
$38.14
Chevron
187182
07/18/2009
310
11.778
26.3
$3.239
$38.15
Valero
186865
07/06/2009
306
11.673
26.2
$3.239
$37.81
Chevron
186555
06/21/2009
319
11.107
28.7
$3.249
$36.09
Union 76
186249
06/14/2009
335
12.057
27.8
$3.199
$38.57
Valero
185930
06/08/2009
313
11.118
28.2
$3.199
$35.57
Chevron
185595
06/04/2009
322
12.130
26.5
$3.099
$37.59
Union 76
185282
05/26/2009
362
12.444
29.1
$2.979
$37.07
Chevron
184960
05/23/2009
292
10.794
27.1
$2.999
$32.37
Shell
184599
05/15/2009
343
11.845
29.0
$2.839
$33.63
Chevron
184307
05/08/2009
302
10.909
27.7
$2.779
$30.32
Shell
183964
04/28/2009
341
11.725
29.1
$2.639
$30.94
Chevron
183661
04/25/2009
343
11.862
28.9
$2.599
$30.83
Shell
183320
04/15/2009
339
12.263
27.6
$2.549
$31.26
Union 76
182978
04/09/2009
321
11.259
28.5
$2.659
$29.94
Chevron
182639
04/04/2009
348
12.154
28.6
$2.539
$30.86
Union 76
182318
03/29/2009
346
11.463
30.2
$2.419
$27.73
Union 76
181970
03/26/2009
342
12.385
27.6
$2.539
$31.45
Chevron
181623
03/08/2009
315
11.106
28.4
$2.519
$27.98
Chevron
181281
02/27/2009
420
14.888
28.2
$2.539
$37.80
Chevron
180966
02/20/2009
326
12.174
26.8
$2.599
$31.64
Union 76
180546
02/09/2009
334
12.351
27.0
$2.439
$30.12
Rotten Robbie
180220
01/31/2009
349
12.685
27.5
$2.339
$29.67
Union 76
179887
01/25/2009
350
12.492
28.0
$2.259
$28.22
Valero
179538
01/18/2009
339
12.053
28.1
$2.299
$27.71
Chevron
179188
01/10/2009
329
12.394
26.5
$2.339
$28.99
Chevron
178848
01/04/2009
330
10.589
31.2
$2.499
$26.46
Shell
178519
01/04/2009
286
9.700
29.5
$2.059
$19.97
Chevron
178189
01/01/2009
412
14.922
27.6
$2.999
$44.75
Mobil1
177903
2008
Date

Trip Miles

Gallons Purchased

Fuel Economy

Fuel Cost

Fill-Up Cost

Brand

Odometer
12/31/2008
281
10.059
27.9
$2.119
$21.32
Union 76
177491
12/22/2008
326
12.474
26.1
$2.179
$27.18
Shell
177209
12/13/2008
323
11.208
28.8
$1.899
$21.28
Valero
176884
12/05/2008
375
12.639
29.7
$2.079
$26.28
Union 76
176561
11/24/2008
308
11.292
27.3
$2.279
$25.73
Rotten Robbie
176185
11/16/2008
332
12.136
27.4
$2.539
$30.81
Union 76
175877
11/03/2008
335
11.415
29.3
$3.219
$36.74
Union 76
175545
10/25/2008
325
11.867
27.4
$3.599
$42.71
Chevron
175210
10/13/2008
344
11.898
28.9
$3.869
$46.03
Shell
174884
10/04/2008
276
9.953
27.7
$3.859
$38.41
Valero
174540
09/29/2008
290
9.933
29.2
$3.899
$38.73
Rotten Robbie
174264
09/22/2008
341
10.790
31.6
$3.899
$42.07
Rotten Robbie
173974
09/14/2008
323
10.343
31.2
$3.999
$41.36
Rotten Robbie
173640
09/12/2008
340
10.962
31.0
$4.176
$45.78
Union 76
173310
09/05/2008
346
10.663
32.4
$4.059
$43.28
Rotten Robbie
172971
08/30/2008
357
11.874
30.1
$4.099
$48.67
Rotten Robbie
172625
08/23/2008
335
10.673
31.4
$4.279
$45.67
Union 76
172269
08/20/2008
349
11.990
29.1
$4.279
$51.31
Union 76
171933
08/11/2008
261
10.022
26.0
$4.339
$43.49
Rotten Robbie
171584
08/03/2008
348
11.582
30.0
$4.399
$50.95
Rotten Robbie
171323
07/17/2008
360
11.678
30.8
$4.599
$53.71
Rotten Robbie
170975
07/10/2008
352
11.534
30.5
$4.639
$53.51
Rotten Robbie
170615
07/04/2008
344
11.598
29.7
$4.699
$54.50
Rotten Robbie
170263
06/28/2008
292
10.351
28.2
$4.779
$49.47
Valero
169919
06/03/2008
322
10.502
30.7
$4.499
$47.25
Union 76
169627
05/28/2008
328
11.683
28.1
$4.359
$50.93
Union 76
169306
05/22/2008
329
10.886
30.2
$4.239
$46.15
Union 76
168978
05/16/2008
301
10.367
29.0
$4.219
$43.74
Union 76
168648
05/09/2008
349
12.298
28.4
$4.179
$51.39
Union 76
168348
05/03/2008
335
12.402
27.0
$4.099
$50.84
Shell
167999
04/25/2008
339
12.141
27.9
$4.059
$49.28
Rotten Robbie
167664
04/20/2008
313
11.188
28.0
$4.159
$46.53
Valero
167325
04/13/2008
345
12.078
28.6
$3.959
$47.82
Rotten Robbie
167013
04/10/2008
314
10.933
28.7
$3.959
$43.28
Rotten Robbie
166667
04/04/2008
361
13.043
27.7
$3.919
$51.12
Union 76
166350
03/23/2008
330
11.786
28.0
$3.949
$46.54
Union 76
165991
03/11/2008
331
11.850
27.9
$3.979
$47.15
Union 76
165661
03/07/2008
315
11.912
26.4
$3.889
$46.33
Union 76
165331
02/29/2008
313
11.293
27.7
$3.839
$43.35
Union 76
165016
10/2005 - 2/2008
Date

Trip Miles

Gallons Purchased

Fuel Economy

Fuel Cost

Fill-Up Cost

Brand

Odometer
10/10/2005
24616
906
27.2
$2.759
$2500
(Various)
140400